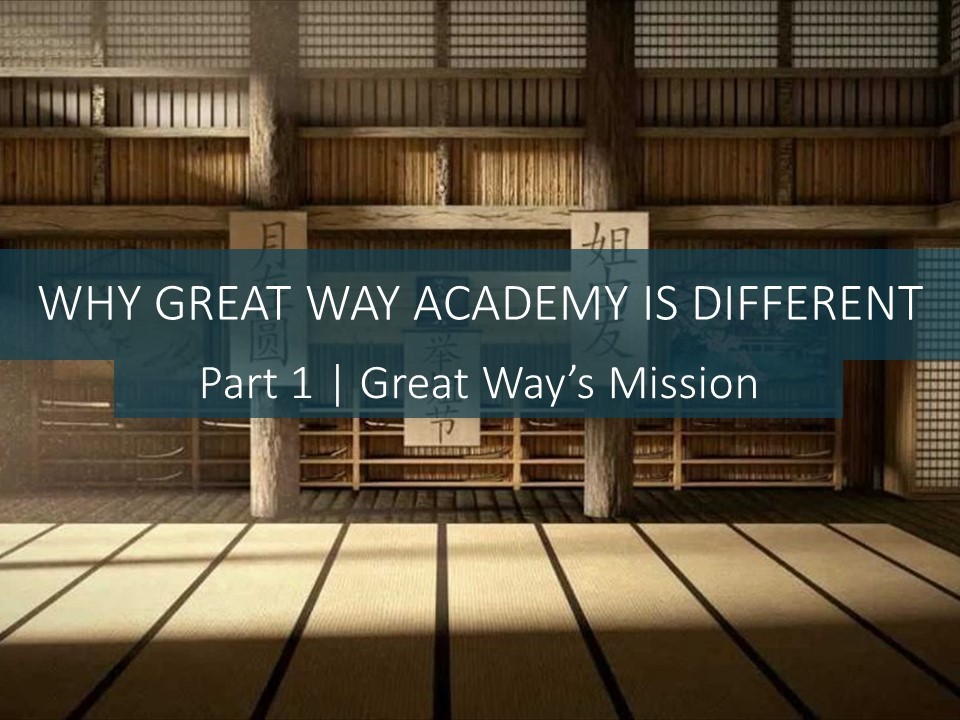 Great Way Martial Arts is far from your average martial arts school and we continue to always do our best to evolve, innovate and create not compete. The mission is about joyfully inspiring the mental and physical well-being of every individual and family involved locally and globally. With the mantra of "I can, I must, I will" leading the way Great Way is and has been supporting positive lasting change since 1993.
The name "Great Way" came from 2 sources. First the term "Great Way" means "the Tao" or "path" or "the great path." Second, it has been the phrase most used to describe the benefits and effects of being in the classes I.E. "it is a Great Way to get in shape." However, offering exercise and self-defense is just the beginning. Great Way is about personal development, goal setting, perseverance, and leadership by being an intelligent follower and developing strong self-discipline muscles. Great Way's definition of discipline is simply giving yourself a command and following it.
Great Way offers on-location classes, online courses, one on one and group coaching, and more. Every class and course has mental and physical benefits. Great Way's guiding philosophy is always putting the needs of the student, client, and customer first and always. Defining their goals and showing them how they can achieve what they truly desire. Kung Fu is about doing your best and bringing out your best. To do this means having a "shift". A shift in thinking. A shift in your beliefs and habits, and ultimately a shift in the results you are getting.
One thing we all have in common is we all want "more". More health, better fitness, more peace, better attitude, more confidence, better self-discipline, etc. To get "more" habits need to evolve and beliefs need to be questioned and to make this permanent can only happen one of 2 ways. One way is an emotional impact, usually negative like 9/11 and the second way is with study, repetition, and elite-style coaching. The latter is what Great Way specializes in.

Sigung James Heinrich
Owner | Master Instructor
Contact Me