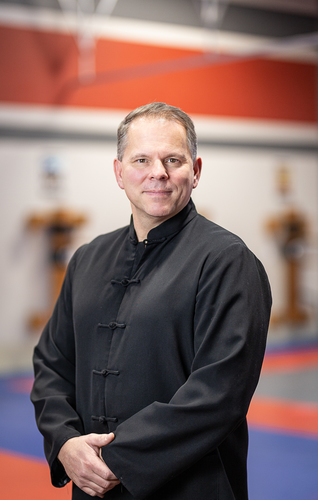 Sigung James Heinrich is a Master Instructor and Licensed Consultant for the Proctor Gallagher Institute
James has spent the majority of his life training in the Martial Arts beginning with Kung Fu, Kickboxing, and Shaolin Kung Fu before starting his journey in Wing Chun in 1990.
He co-founded Great Way Martial Arts with his Partner and Wife Esmeralda in 1993 and achieved his Level 10 Black Belt and Instructor Certification in 1998 and his enthusiasm and gratitude for the martial arts and community continue to grow year after year as does his commitment to sharing the benefits of Kung Fu training.
James has also achieved practitioner levels in Touch for Health, Body Management & Educational Kinesiology (Brain Gym).
As a husband, and Father of three, he believes that Kung Fu training for the whole family is a remarkable lifestyle with vast benefits for the whole family.
All of his children trained in the Martial Arts achieving their Junior Black Belts.
– Owner/Founder of Great Way Martial Arts since 1993
– Certified Level 10 Instructor in Wing Chun Kung Fu
– Red Sash Master Level in Wing Chun Kung Fu
– Licensed Consultant/Coach with the Proctor Gallagher Institute
– Educational Kinesiology Certified in Brain Gym Level 1
– Level 1 & 2 BM (Body Management) Practitioner
– Level 1 & 2 TFH (Touch 4 Health) Practitioner
– Certified Red Seal Chef for Delta Hotels
– Three Years of Automotive Mechanics Training
Instructors that Master James has trained to go on to open Martial Arts Schools in Canada include;
• Sifu Chad Smith – Vancouver Wing Chun
• Sifu Robert Rinas – Vernon & Kitchener ON. Breakthrough Martial Arts
• Sifu Jeremy Hoemsen – Victoria Wing Chun Punch Club